Thank you to Anne Carter and Pan Macmillan for giving me the opportunity to join this blog tour. All views are my own.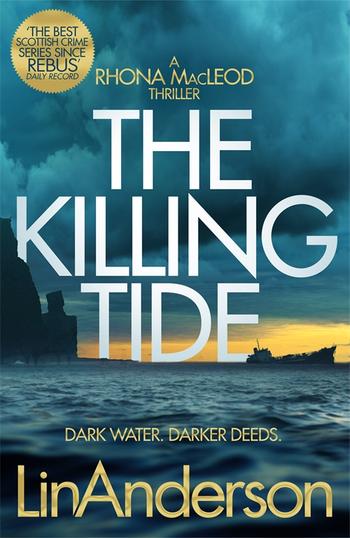 I was really excited and scared when I was presented with the opportunity to join the blog tour for Anderson's new novel The Killing Tide for two reasons. One, I wanted to read a Scottish novel from a Scottish author. And two, what better way to dive into Tartan Noir than with a well established series. However it was really scary to go into this book because I felt like a kid in school who hasn't done his homework. After all, The Killing Tide is the 16th novel in the Dr Rona MacLeod series.
Cleverly written and plotted, The Killing Tide starts off with the last night of a storm. I loved this opening as it set the mood from the beginning. Having experienced storms in Scotland I almost felt that the wind was going to start knocking on my windows, that the tiles on my roof will fly away and I would be left to my own devices to face the storm.
But unlike the storms I am familiar with, the storm on Orkney Island, brings forward a drifting ship quickly identified as MV Orlova. For me as a crime fan and reader of crime fiction I thought that the ship had to be somehow linked to the overall ARC of the story however, I must applaud once again Anderson's brilliant plotting because I think I fallen exactly in the set-up net she has opened. Meanwhile in Glasgow, DS McNab with his partner attend what initially looks like a self-immolation but the scene tells a different story.
How are these two story lines linked? What has a ship in Orkney Islands have to do with a self-immolation in Glasgow?
Anderson is a master at twisting webs of stories with intricate details that stick under your skin and a fabulous cast of characters that all fight for the spotlight regardless of their role in the story.
The story moves at an incredible pace. I don't know what was the last time I read a book in a sitting. Sentence after sentence and chapter after chapter I had to understand more. I needed to get to the end of the story to satisfy an itch, a curiosity. The Killing Tide is much more than a noir novel, or a crime novel. Having not read the rest of the story I was a bit reluctant because I thought that I'm not going to be able to enjoy these characters as much as the fans of the series. But to my surprise, I felt invested in these characters. In all of them, regardless of their role in the story.
Anderson doesn't shy away in the novel to bring to the forefront difficult themes and addresses them in a great and original matter. From corruption to threats and murder every theme is explored in a tantalizing and vivid way. To a certain degree I did feel a bit bad for the characters. One of the greatest writing advice I have read when it comes to crime writing is always think 'what's the worst that can happen next to these characters?'. I think Anderson's writing really shows what this advice can do in a great setting and with a strong set of characters.
The Killing Tide is an engaging read that will keep you on the edge of your seat, filled with plot twists that some you will see coming and others not quite. I can't really speak of it's position in the series as I have not picked up any other books in the series yet, but I will definitely look into starting this series from the beginning.
The Killing Tide is published today by Pan Macmillan and I would encourage anyone who isn't familiar with Lin Anderson's books to go and grab it because it really is one of the most stellar crime-novels I read so far this year. Even if you aren't a fan of crime novels and police procedural novels this book is a great start to get into the genre as this book is so much more than the hard-cut crime and police procedural novel.